Gospel Crab & Shrimp Feast Concert Bus Express
July 27, 2024
Martin's West – Baltimore, MD
Artists TBA

All You Can Eat Crab & Shrimp Feast at Martin's Caterers in Baltimore, Md.


TOUR INCLUSIONS
Live Gospel Entertainment
Family Friendly Comedy Show
All-U-Can-Eat-Seafood Buffet
Round Trip Transportation
Gospel Crab & Shrimp Feast Concert Bus Express
Meet at your designated pick up location 30 minutes early. (Approx times: NYC 7 AM / PA 10 AM) Be On Time, we cannot wait for ANY late guests.
Board Motor Coach and Check-In Sign in with SNE Check In Coordinator (CIC). Be sure to have your valid government issued photo id. It is required to show this id for access to all event facilities & coach.
ARRIVAL at Martin's Caterers: Upon arrival you will need to go to the Soul Nation Events Sign Up Table to receive your wrist band and find out your table seating. Please be courteous to others by following the SNE Greeter instructions upon entrance to the facility. One chair per person, do not use chairs for storing handbags or other items. Please do not shift chairs from one table to another. Stage is elevated for each seat to have a pleasurable viewing experience. For safety reasons, keep all aisles clear during event.
1:00PM – 5:00PM Crab & Shrimp Feast and Cash Bar. All food is served buffet style including condiments. Crabs and shrimp are served from separate stations, including melted butter. Martin's staff roam throughout removing plates and silverware, as well as keeping buffet restocked. There are rolling trash bins throughout seating area for your convenience, too. Bars are open for those over 21 with proper event wristband. Bar can refill pitchers of soda and water.
5:00PM – 5:30PM: Board buses for departure home.
Home: Arrive at your group's drop off location. Please make sure you take all of your belongings with you. We hope you had an enjoyable experience, and be sure to ask your Group Leader about the next event.
SNE Check-In Coordinator (CIC) is a volunteer travel liaison whose job is to check each passenger's ID and confirm they are on the passenger list. They do not perform additional services and are not Tour Guides.
Photo ID, Event Wristbands, Medications: All Guests are required to bring a valid government issued photo id to show for proof of age, identity and to acquire special event wristbands for access to facilities and all events.  Keep your medications with you at all times, access to your luggage is limited on a motor coach.  
Motorcoach Standards & Policies:  Safety is the #1 priority and mutual respect is key to an enjoyable trip. All passengers are to remain seated while the coach is in motion.  All coaches are smoke free.  All coolers and large items should be stowed in the undercarriage.  Only items that fit in overhead bins are permitted on the coach.  Glass is prohibited.  Rest stops and consumption of alcohol is at the discretion of the driver and should be in a controlled moderation.  Coach lavatory is designed for emergency use.  Suggest utilizing fully equipped restrooms at rest stop facilities when possible.  Rest Stops and consumption of alcohol is at the discretion of the driver, if allowed alcohol consumption should be in moderation and controlled.

Stay informed about upcoming tours and events
"*" indicates required fields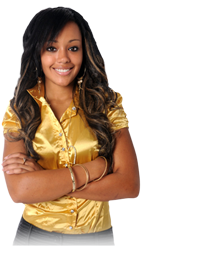 Groups & Individuals Welcomed!
Organize a group and you could go for free and earn money. Looking to travel with just a few is fine, too. It's easy and no obligations. Send us a message or call us at (215) 504-4000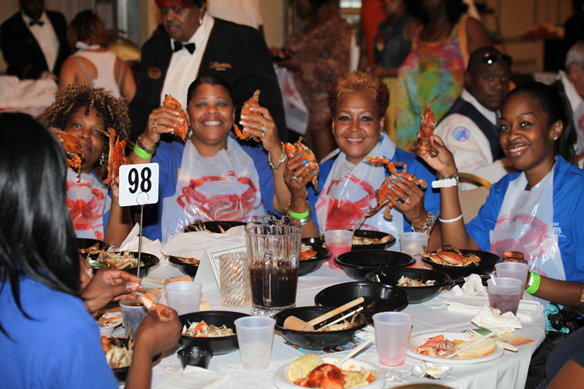 Saturday at Maryland's renowned Martin's Caterers [1 PM – 5 PM]
Featuring Steamed Hard Crabs, Peel & Eat Shrimp, Homemade Crab Soup & Soup Du Jour, Roast Sirloin of Beef, Fried Fish, BBQ Chicken, BBQ Pork Ribs, Martin's Famous Jumbo All Beef Hot Dogs, Fresh Sweet Golden Corn, Macaroni & Cheese, Mashed Potatoes & Gravy, String Beans, Homemade: Seafood Salad, Potato Salad, Creamy Cole Slaw. Fresh Garden Salad with huge array of fixin's and condiments, Fresh Watermelon & Assorted Fruit, Fresh Baked Dinner & Sandwhich Rolls, Assorted Sheet Cakes. Menu may vary slightly
Sit back, relax, and leave the driving to us.
We have arranged for round trip transportation on lavatory equipped video buses so that you can start having fun right from the beginning of your trip. Individuals / Small Groups will be given an option to select a convenient pickup location from major cities in the following states. [NY / NJ / PA / DE / MD
Keep This – It Makes it Collapsed
These are the general designated departure locations for individuals and small groups at this time. You will given the option to select your preferred departure location upon making a reservation for your tour. Pickup times vary depending on the tour and will be verified with you. Depending upon the event location, certain departure areas may not be available.
DC: Oxon Hill Park & Ride, 414 West & Indian Head Highway, Oxon Hill, MD
DE: Delaware Welcome Center Travel Plaza, 530 JFK Memorial Hwy., Newark DE
MD: Security Park & Ride, Ext. 94 off I-70, Baltimore, MD
NJ: Peter Francisco Park (Near Penn Station), Market & Ferry Streets, Newark, NJ
NY: Harlem State Building, 125th & 7th Avenue, NY, NY
NY: Brooklyn Academy of Music, 30 Lafayette Ave, Brooklyn, NY
NY: Grand Concourse & East 149th Street, Bronx, NY
NY: Parsons Blvd & Jamaica Ave, Queens, NY
PA: 30th Street Station Building, 3100 Market Street, Philadelphia, PA
PA: M L K High School, 6100 Stenton Ave, Philadelphia, PA
PA: Progress Plaza, Broad & Oxford, Philadelphia, PA
NOTE: If you are a part of a larger group and received a flyer, your pickup location and time is listed there. You will only have to enter the Tripcode listed on the flyer and not select a pickup location at time of booking. Group bookings from states out of those listed are available, too.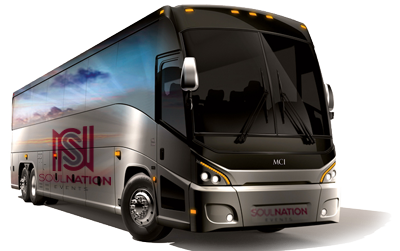 PRICE
$10 ADDTIONAL FOR DEPARTURES FROM NYC & NORTH JERSEY AREAS
GROUP ORGANIZERS GO FREE & MAKE MONEY
Organize a group of 10 or more and earn $10 back on every person you bring.
Get 50 people and go for FREE!  Ask us how!
Gospel Crab & Shrimp Feast Concert Bus Express
Get Started in 2 Easy Steps:
"Sure to Entertain your Soul"
With over 30 years of entertainment experience, Soul Nation Events organizes exclusive, affordable tours and getaways that enable people to extend their love for music with like-minded concert goers. We also offer tour packages that celebrate African American History & Culture.