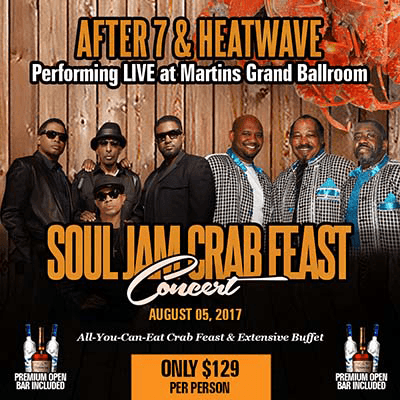 This all-inclusive event includes:
Live Performances by After 7 & Heatwave. . . the concert along with some of the hottest DJ music for dancing will take place right at Martin's Crosswinds magnificent grand ballroom located in Greenbelt, MD.
All-U-Can-Eat Crab Feast & 4 Hour Premium Open Bar. . . enjoy the food and spirits as you watch your favorite artists perform live in this intimate venue setting.
MENU
Steamed Hard Crabs, Homemade Crab Soup & Soup Du Jour, Roast Sirloin of Beef, Fried Fish, BBQ Chicken, BBQ Pork Ribs, Martin's Famous Jumbo All Beef Hot Dogs, Fresh Sweet Golden Corn, Macaroni & Cheese, Mashed Potatoes & Gravy, String Beans, Homemade: Seafood Salad, Potato Salad, Creamy Cole Slaw. Fresh Garden Salad with huge array of fixin's and condiments, Fresh Watermelon & Assorted Fruit, Fresh Baked Dinner & Sandwhich Rolls, Assorted Sheet Cakes.
Soul Jam Crab Feast Concert – Individual [1 Day Event AUG 5th] No Bus
Buying tickets is easy!
Just select how many spots you want to reserve, enter attendees names, and click "Add to Cart" to finish checking out.