Hip Hop & Soul Concert Bus Express – Group [1-Day Event MAR 03]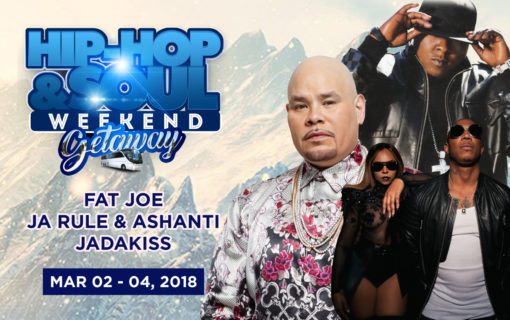 Event Inclusions:

GIVEN DMX's RECENT INCARCERATION, WE HAVE THE GREAT FORTUNE OF ANNOUNCING "FAT JOE" AS THE NEW HEADLINER FOR THIS EVENT.

Live Performances by Fat Joe, Ja Rule & Ashanti, Jadakiss (Santander Arena in Reading, PA)
Round Trip Motorcoach Transportation
All-You-Can-Eat-Dinner
2 Hours Premium Open Bar
Saturday
10:00AM - 12:00PM: BUS DEPARTURES If traveling on one of our scheduled bus pickups, you will be notified with confirmed pickup times well in advance of departure dates.
4:00PM - 6:00PM: Dinner Buffet Served
4:00PM - 6:00PM: Premium Open Bar with DJ Music
6:15PM: Loading begins for Concert Buses - Don't be late!
8:00PM - 11:00PM: Concert with Comedic Host at Private Venue - SEE YOUR EVENT CONCERT LINEUP FOR ARTISTS
11:15PM: Loading begins immediately following the show for return home.
Note: This is a standard tour itinerary for this event. Times may vary ... see actual event itinerary upon arrival.
How do I make a reservation?
To hold your space for this event a $50 per person deposit is due ASAP. We have limited availability and the deposit will guarantee your spot. You can make additional payments to reduce your balance at anytime, however the entire balance is due no later than 30 days prior to the event.
What are the available bus departure locations.
These are just a sample of some of the designated departure locations with more being added all the time. You will given the option to select your preferred departure location upon making a reservation for your tour.
DE: Delaware Welcome Center Travel Plaza, 530 JFK Memorial Hwy., Newark, DE 19725 (Parking Lot Before Sunoco)
PA: 30th Street Station Building, In front of Drexel Bldg, 3100 Market Street Philadelphia PA. 19104
PA: MLK HIgh School, 6100 Stenton Ave, Philadelphia, PA 19138
PA: Progress Plaza, Broad & Oxford Streets, Philadelphia, PA 19121
NJ: Peter Francisco Park (Near Penn Station), Market & Ferry Streets, Newark, NJ 07105
NY: Harlem State Building, 125th & 7th Avenue, NY, NY 10027
NY: Grand Concourse & East 149th Street, Bronx, NY 10451
NY: Brooklyn Academy of Music, 30 Lafayette Ave, Brooklyn, NY 11217
NY: Parsons Blvd & Jamaica Ave, Queens, NY 11432
MD: Security Park & Ride, Ext. 94 off I-70, Baltimore, MD
DC: Oxon Hill Park & Ride, 414 West & Indian Head Highway, Oxon Hill, MD
What if I do not need transportation?
In the event you do need transportation, select the U-Drive option in the Bus Pickup Location option.  There is no discount for this choice with buses being used throughout the event for different activities, etc.
Will I be getting everything that group customers are receiving on the tour?
Yes, we have made it easy for anyone to sign up for our events. On tours that include transportation and or overnight hotel accommodations, we have designated certain properties and easy access bus pickup locations for you. Once selected, all other things regarding the event package are included.
Does it cost more if I am not part of a group?
Individuals and small group rates are $20 higher than posted group rates depending on the tour type. The reason for this is because of the added customer service and processing that takes place to service these individuals. Anyone wishing to promote a group to lock in discounted group rates can do so.
What is the Processing Fee?
All online credit card / paypal purchases incur a 7% processing fee. This fee is charged to offset the charges to our company to accept that form of payment, and the added customer service required in bookkeeping. Payments can always be made via check within the stated payments terms and by Western Union.
How do I make my balance payment
Balance payments can always be paid via check, made payable to Soul Nation Events, and be mailed to the below address.  You will need to include who you are paying for and the amount for each guest it represents.  Personal checks are only accepted up to 30 days prior to your departure.  Any payments being made within 30 days of departure MUST be in the form of a money order or by western union.  
Soul Nation Events
Attn: Payment Processing
407 Executive Drive
Langhorne, PA 19047
How many beds are in a room?
Every room comes with either one bed or two beds. There are a limited amount of two-bedded rooms at each hotel. As a result, two-bedded room types are usually reserved for the triple and quad occupancy rooms needed and then on a first come first serve basis. Some properties have pull out sofas in their single bedded rooms that can be used as two beds and roll away cots are an option upon request as well.
Are there refrigerators and microwaves in the room?
Most hotel properties do not provide refrigerators or microwaves.  Please plan accordingly.
How far is the hotel from the concert?
Individuals and Small Groups are placed in hotels within one hours drive time or less.
What is the cancellation policy?
It is highly recommended to purchase travel insurance. If a reservation is canceled 45 days prior to departure, only the initial deposit is non-refundable. If a reservation is canceled for any reason within 45 days of departure, all payments in are non-refundable. All monies are non-transferable. Name changes and replacements are not accepted. Reservations cannot be confirmed unless secured by the timely arrival of required deposits and final payments due to SNE no later than 30 days prior. Reservations not paid in full shall be placed on a "space available basis" and are subject to cancellation policy regardless of alternative tour options that may be offered. Trips canceled due to lack of payment are not entitled to any kind of refund.
What happens if an artist is unable to make the concert?
SNE cannot guarantee the appearance of any performer due to Acts of God, missed flights or other situations that may interfere with the Artists performance. If SNE is given adequate notice by an artist that he/she is unable to make the appearance then SNE shall attempt to provide a replacement of SNEs' choosing, and if successful, the full concert admission price is charged and participants then are not entitled to any form of refund. If for any reason the advertised performer is unable to appear and SNE is unable to provide a replacement, then each participant is entitled to a pro-rated refund of the $30 Concert Price. In the event that the concert features several artists and one or more artists are not able to perform and are not replaced, SNEs only responsibility is to provide a refund of the "no show artists prorated portion of the total "$30 Concert Price".