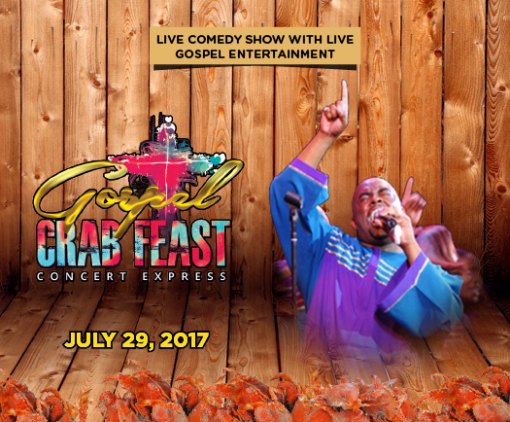 This all-inclusive event includes:
Live Gospel and Comedy Performances
Round Trip Motorcoach Transportation (optional)
All-U-Can-Eat Crab Feast at Martin's Caterers
DEPARTURE: Board Motor Coach (Approx times: NYC 7 AM / PA 10 AM) Sign in with Soul Nation Events "Check In Coordinator: or CIC. BE ON TIME, we cannot wait for ANY late guests. And please be sure you have your valid government issued photo id with you.  It is required that you show this id for access to all events.
Arrival at Martin's Caterers: Upon arrival you will need to go to the Soul Nation Events Sign up Table to receive your wrist band to find out your crab feast table seating. Please be courteous to others by following the SNE Greeter seating instructions upon entrance to the facility. One chair per person, do not use chairs for storing handbags or other items. Please do not shift chairs from one table to another. Stage is elevated for each seat to have a pleasurable viewing experience. For safety reasons, keep all aisles clear during the event.
1:00 PM - 5:00 PM: Crab Feast Buffet & Beverage Service. . . all food is served buffet style including condiments. Crabs are served from separate station including melted butter. Pitchers of water and soda are on each table. Wet naps, bibs, and crackers are also on each table. Martin's staff roam throughout tables collecting plates, silverware so that buffet remains well stocked. There are rolling trash bins throughout seating area for your convenience. Bar is open for those over 21 with proper event wristband. Bar also can refill pitchers of soda and water as well.
5:00 PM - 5:30 PM: Board buses for departure home Please be sure to take all of your belongings with you.  We hope you had an enjoyable event.
Motorcoach Standards & Policies: afety is the #1 priority and mutual respect is key to an enjoyable trip. All passengers are to remain seated while the coach is in motion. All coaches are smoke free. All coolers and large items should be stowed in the undercarriage. Only items that fit in overhead bins are permitted on the coach. Glass is prohibited. Rest stops and consumption of alcohol is at the discretion of the driver and should be in a controlled moderation. Coach lavatory is designed for emergency use. Suggest utilizing fully equipped restrooms at rest stop facilities when possible.
How do I make a reservation?
To hold your space for this event a $50 per person deposit is due ASAP. We have limited availability and the deposit will guarantee your spot. You can make additional payments to reduce your balance at anytime, however the entire balance is due no later than 30 days prior to the event. Select a tour date, choose to pay either in full or by deposit & balance, pick your bus departure location, and let us know who the reservations are for. This is done to right of this page. Once completed and you are checked out, you can expect to hear from an experienced representative within 3 business days to help coordinate your trip.
Where are the bus departure locations?
These are the designated departure locations at this time. You will given the option to select your preferred departure location upon making a reservation for your tour.
DE: Delaware Welcome Center Travel Plaza, 530 JFK Memorial Hwy., Newark, DE 19725 (Parking Lot Before Sunoco)
PA: 30th Street Station Building, In front of Drexel Bldg, 3100 Market Street Philadelphia PA. 19104
NJ: Peter Francisco Park (Near Penn Station), Market & Ferry Streets, Newark, NJ 07105
NY: Harlem State Building, 125th & 7th Avenue, NY, NY 10027
NY: Brooklyn Academy of Music, 30 Lafayette Ave, Brooklyn, NY 11217
Will I be getting everything that group customers are receiving on the tour?
Yes, we have made it easy for anyone to sign up for our events. On tours that include transportation and or overnight hotel accommodations, we have designated certain properties and easy access bus pickup locations for you. Once selected, all other things regarding the event package are included.
Does it cost more if I am not part of a group?
Individual and small group rates are usually $10 to $20 higher than posted group rates depending on the tour type. The reason for this is because of the added customer service and processing that takes place to service these individuals. Anyone wishing to promote a group to lock in discounted group rates can do so.
Gospel Crab Feast Concert Bus Express – Individual [1 Day Event JUL 29th]
Buying your individual ticket is easy!
Just select how many spots you want to reserve, choose your bus pickup location, and click "Add to Cart" to finish checking out.
After that you will receive confirmations and event updates leading up to the day of your departure!