DC Cultural & Entertainment Getaway – [Overnight Event Select Date]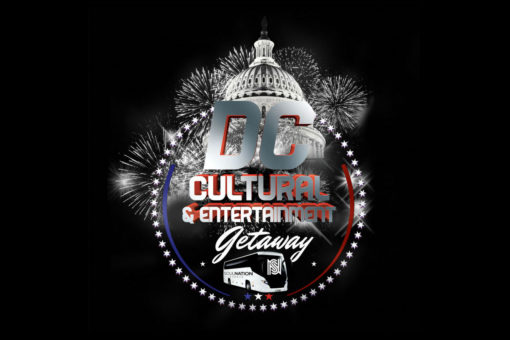 Event Inclusions:
Access Pass to the National Museum of African American
History & Culture
1st class hotel accommodations (1-night)
at Holiday Inn Columbia-Jessup, Md
Round Trip Motorcoach Transportation
All-You-Can-Eat Dinner & Breakfast
Premium Open Bar
Pulsating DJ Dance Party
Comedy Show
Sat: Maryland Live Casino & Arundell Mills Mall
Sun: DC Museum Tours
Prices:
$199 Per Person (4 to a room)
$219 Per Person (3 to a room)
$229 Per Person (2 to a room)
$329 Per Person (1 to a room)
Saturday
Meet at your designated pick up location 30 minutes early.
BE ON TIME, we cannot wait for ANY late guests.
DEPARTURE: Board Motor Coach and Check-In (Approx times: NY area 8am and PA area 10am) Sign in with Soul Nation Events "Check In Coordinator: or CIC. Be sure you have your valid government issued photo id with you.  It is required that you show this id for access to all events.
1PM - 4PM: Maryland Live Casino / Arundell Mills Mall stop on your way to the hotel.  Located together you can enjoy 3 hours of free time gaming or shopping.
5:00PM: Check-In Hotel Room – Settle in and get ready for a delicious dinner.
6:30 - 8:30PM: Dinner Buffet Served Live DJ Music Entertainment.  (Cash Bar available, served by hotel staff)
9:15 - 10PM: Comedy Show – Live Performance by a Family Friendly Comic
10:30PM - 1:30AM: Dance Party – with Live DJ Entertainment, Adults Only
11PM- 1AM: Premium Open Bar
Sunday
8AM - 10AM: Breakfast Buffet Served
8:30AM: Check Out Begins – Turn in Keys to Front Desk & Load Luggage on Coach.
10:00AM: Coaches Load & Depart for DC Museum Area
11:00AM: Arrive at the National Museum of African American History and Culture.
Check your reserved time stamped pass for entry time.  You will pass through security check.
Feel free to visit other museums, landmarks and memorials in the area.
5:30PM: Load Coach for departure home. Meet at same location it dropped you off for the Museum.
HOME: Arrive at your group's drop off location
Please be sure to take all of your belongings with you.  We hope you had an enjoyable event.
Note: Times may vary ... see actual event itinerary upon arrival.
How do I make a reservation?
To hold your space for this event a $50 per person deposit is due ASAP. We have limited availability and the deposit will guarantee your spot. You can make additional payments to reduce your balance at anytime, however the entire balance is due no later than 30 days prior to the event. Select a tour date, choose to pay either in full or by deposit & balance, pick your bus departure location, and let us know who the reservations are for. This is done to right of this page. Once completed and you are checked out, you can expect to hear from an experienced representative within 3 business days to help coordinate your trip.
Where are the bus departure locations?
These are the designated departure locations at this time. You will given the option to select your preferred departure location upon making a reservation for your tour.
DE: Delaware Welcome Center Travel Plaza, 530 JFK Memorial Hwy., Newark, DE 19725 (Parking Lot Before Sunoco)
PA: 30th Street Station Building, In front of Drexel Bldg, 3100 Market Street Philadelphia PA. 19104
NJ: Peter Francisco Park (Near Penn Station), Market & Ferry Streets, Newark, NJ 07105
NY: Harlem State Building, 125th & 7th Avenue, NY, NY 10027
NY: Brooklyn Academy of Music, 30 Lafayette Ave, Brooklyn, NY 11217
MD: Security Park & Ride, Ext. 94 off I-70, Baltimore, MD
Will I be getting everything that group customers are receiving on the tour?
Yes, we have made it easy for anyone to sign up for our events. On tours that include transportation and or overnight hotel accommodations, we have designated certain properties and easy access bus pickup locations for you. Once selected, all other things regarding the event package are included.
Does it cost more if I am not part of a group?
Individual and small group rates are usually $10 to $20 higher than posted group rates depending on the tour type. The reason for this is because of the added customer service and processing that takes place to service these individuals. Anyone wishing to promote a group to lock in discounted group rates can do so.