Atlantic City Old School Hip Hop Concert Bus Express – [ 1-Day Event JAN 14]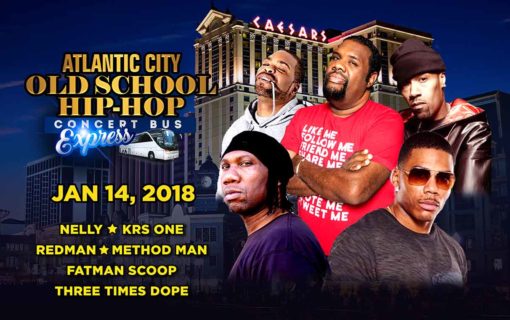 Event Inclusions:
Roundtrip Motorcoach Transportation
Live Old School Hip Hop Concert
$15 Free Slot Play
Prices:
$129 Per Person


Saturday or Sunday
Meet at your group's designated pick up location 30 minutes early.
BE ON TIME, we cannot wait for ANY late guests.
DEPARTURE: Board Motor Coach (Approx times: 10 AM to 12 Noon) Sign in with Soul Nation Events "Check In Coordinator: or CIC.  Be sure you have your valid government issued photo id with you.  It is required that you show this id for access to all events. NOTE: Speed up your process for Caesars Total Rewards Card Registration. Use mobile app in route that allows user to scan id via smart phone…. Visit https://www.totalrewards.com/Program/
Arrive Atlantic City: Arrive at Caesars Casino (Remain on Bus until Greeter boards bus with vouchers) Bus will drop you off here and Casino Greeter will distribute your slot coin credit vouchers. All Guests must be at least 21 yrs old & sign up for Total Rewards card. Instructions for Return trip home will be given. Please write your exact departure time down below. Show tickets will also be distributed by SNE Greeter. Reminder, there are multiple SNE buses, each has its own specific departure time.
Pre-Show Free Time: Your Choice Eat, Play, Enjoy! Take advantage of all Caesars has to offer; slots, tables, restaurants.
Comedy Festival at Boardwalk Hall: (Doors open at 7pm, show begins 8pm) Boardwalk Hall is just 2 or 3 blocks away from Caesars along the Atlantic City Boardwalk. Travel between casino and Boardwalk Hall is on your own. You can walk, use Jitney, or Rolling Boardwalk Cart at your own expense. Check your admission ticket for your seating assignment. Boardwalk Hall has strict bag policy refer to Event Information page or Boardwalk Hall website.
After Show: Prepare to Meet Your Bus at Caesars Head back to original Casino bus dropped you off at and enjoy your final moments in AC! Last chance to try your luck at Casino or grab a quick bite to eat.
12:30 AM - 1:00 AM: Board Bus for Return Home 12:30am, 12:45am, 1:00am are the estimated time to depart for approximately 8+ hour stay. Caesars Greeter will confirm YOUR exact departure time as it may be adjusted at time of arrival to casino. Be On Time, Please. The bus cannot wait for ANY late guests.
HOME: Arrive at your group's drop off location
Please be sure to take all of your belongings with you.  We hope you had an enjoyable event.
Note: Times may vary ... see actual event itinerary upon arrival.
How do I make a reservation?
To hold your space for this event a $50 per person deposit is due ASAP. We have limited availability and the deposit will guarantee your spot. You can make additional payments to reduce your balance at anytime, however the entire balance is due no later than 30 days prior to the event. Select a tour date, choose to pay either in full or by deposit & balance, pick your bus departure location, and let us know who the reservations are for. This is done to right of this page. Once completed and you are checked out, you can expect to hear from an experienced representative within 3 business days to help coordinate your trip.
Where are the bus departure locations?
These are the designated departure locations at this time. You will given the option to select your preferred departure location upon making a reservation for your tour.
DE: Delaware Welcome Center Travel Plaza, 530 JFK Memorial Hwy., Newark, DE 19725 (Parking Lot Before Sunoco)
PA: 30th Street Station Building, In front of Drexel Bldg, 3100 Market Street Philadelphia PA. 19104
NJ: Peter Francisco Park (Near Penn Station), Market & Ferry Streets, Newark, NJ 07105
NY: Harlem State Building, 125th & 7th Avenue, NY, NY 10027
NY: Brooklyn Academy of Music, 30 Lafayette Ave, Brooklyn, NY 11217
MD: Security Park & Ride, Ext. 94 off I-70, Baltimore, MD
DC: Oxon Hill Park & Ride, 414 West & Indian Head Highway, Oxon Hill, MD
Will I be getting everything that group customers are receiving on the tour?
Yes, we have made it easy for anyone to sign up for our events. On tours that include transportation and or overnight hotel accommodations, we have designated certain properties and easy access bus pickup locations for you. Once selected, all other things regarding the event package are included.
Does it cost more if I am not part of a group?
Individual and small group rates are usually $10 to $20 higher than posted group rates depending on the tour type. The reason for this is because of the added customer service and processing that takes place to service these individuals. Anyone wishing to promote a group to lock in discounted group rates can do so.